Flow Control Regulators
Pyronics Flow Control Regulators (Product No. 5105) are double diaphragm spring balanced flow ratio control regulators.
Pyronics Flow Control Regulators offer maximum control and fuel efficiency on gas-fired applications involving preheated air to the burners, or where burners fire against a varying back pressure.
The FCR monitors air mass flow by means of a pressure differential across a POP Orifice Flow Meter (Bulletin 5720). The signal from the POP is applied across the regulator large top diaphragm; pressure differential automatically compensates for back pressure. Lower matching "gas" diaphragm is connected to suit the application. Three smaller diaphragms are used within the regulator to balance out dynamic and static forces in the control system.
The FCR holds a constant air/fuel ratio from cold start-up through hot air application. All control components are on the cold side of the system and are unaffected by high combustion air temperatures, minimizing cost and maintenance and permitting initial start-up adjustment to be made on cold air at the high fire condition and adjusting gas to the desired ratio.
On oil or dual fuel applications, use a 6 PCR Pilot Control Regulator (Bulletin 5107).
Capacity Table


Applications
Hot air burner systems: cover annealing furnaces – reheat furnaces – continuous kilns – glass tanks – etc.
Varying back pressure systems: paper drying – atmosphere generators – periodic kilns – forced air dryers – lumber kilns
Dimensions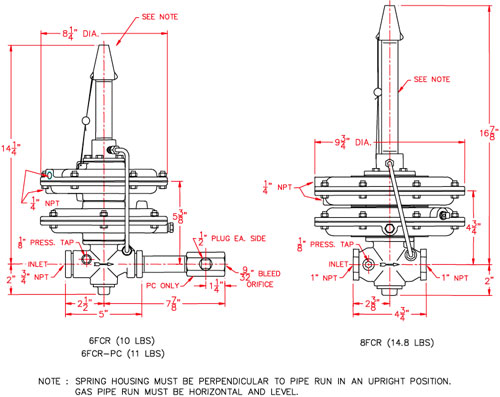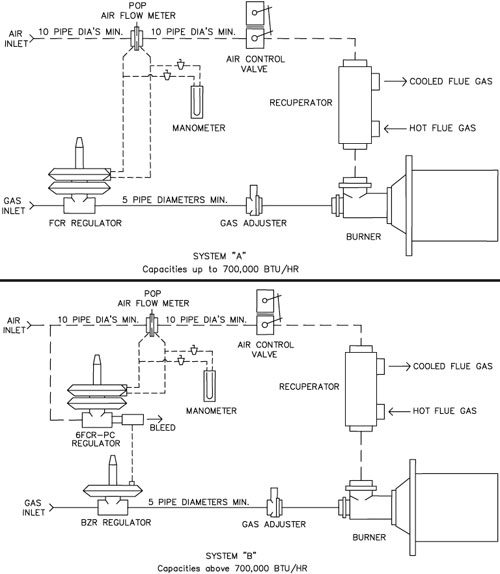 For additional information, consult the factory or your local Pyronics representative.
System Components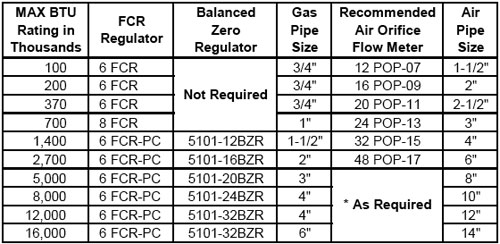 Manometer to have a 12 inch w.c. scale.
Systems are sized using natural gas at 1,000 BTU per cubic foot.
Air orifice flow meter sized for a 10" w.c. drop across plate.
* Air orifice flanges or pipe taps with standard pipe flanges recommended for systems rated greater than 5,000,000 BTU/Hour.
The load lines connecting the regulators, orifice meter, manometer and shutoff valves should be 1/4" O.D. tubing.
A GAF gas adjuster in main gas line is recommended on multi-burner systems.
When system requirements vary from the BTU values listed above, Pyronics will supply a system tailored to your needs. The air orifice will be sized to match air flow and turn down. The Balanced Zero Regulator will be selected based on BTU, operating fuel/air ratio, gas drop across burner and furnace back pressure.
Ordering Information
Specify Inlet and Outlet Pressure.
Type of Gas, Flow, Specific Gravity and Temperature.
Specify Model Number and Quantity.
Shipping Instructions.
Features and Benefits
Operating temperatures to 150 °F
Maximum inlet pressure: 2 psig
Maximum air signal: 15″ W.C.
Nominal air signal: 10″ W.C.
Minimum air signal: 0.1″ W.C.
Accuracy: Low Flow: + 0.0 / – .04″ W.C., Full Flow: + 0.0 / – 0.4″ W.C.
Turndown: up to 10:1
All units factory tested and sealed before shipment.