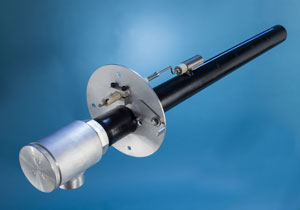 Streetsboro, OH, August 26, 2013 – Selas Heat Technology Company ("Selas") unveils its new Hi-Tri Oven Burner at booth #6021 at the 2013 IBIE Show in Las Vegas. The Hi-Tri burner is the next generation of multi-zone burners to come to the baking industry. With a larger 2″ 2-tube configuration than its predecessor, the Hi-Tri burner incorporates a new manifold head to increase the burner's BTU output by over 100%. With a much lower pressure drop, it can produce 150,000 BTU or more, versus standard burners which deliver up to 67,000 BTU, dramatically decreasing waste and improving heat recovery time.
Hi-Tri Burner features include:
Customized configuration for desired zone distribution, e.g.: 25/50/25 or any combination, to a minimum 20% per zone
Reduces training time by using the same design as prior TriZone burners
Retrofits to ERB 1-1/2″ TriZone or other brand, in any oven
Improves oven heat recovery time by 100%
Decreases waste from recipe change-over
Learn more about the Hi-Tri Burner.
About Selas
Selas Heat Technology Company has been dedicated to providing quality heat technology solutions since 1896. Selas has served the advanced thermal processing needs of tens of thousands of customers, providing mixers, blowers, balanced zero-ratio regulators, valves, air heaters, flame safeguard devices, package burners, nozzle-mix burners, self-recuperative burners, radiant flame shape burners, ultra-low NOx burners, combustion gas mixers, gas blender valves, flame arrestors and blowouts, BTU monitors and controls, flow meters, and much more. Selas delivers heat technology solutions to the glass, fiberglass, steel, ferrous and non-ferrous metals, chemical, petrochemical, automotive, plastics, ceramics, food processing, heat treating, powder coating and textiles industries with the highest quality products, customer service and aftermarket support.
For more information, contact:
Van Mai, Executive Vice President and Marketing Manager
Selas Heat Technology Company LLC
130 Keystone Drive
Montgomeryville, PA 18936
Tel: 800-523-6500
Fax: 215-646-3536