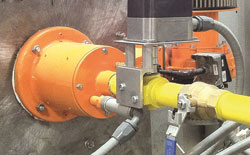 Streetsboro, OH, August 15, 2014 -Selas Heat Technology Company ("Selas") announces the release of a new high efficiency, Low-NOx packaged furnace burner. The HMCT-PAK burner is an innovative adaption of Selas' proven High Momentum Ceramic Tube (HMCT) low NOx burner. Its compact design features a pre-calibrated linkageless control system, a variable speed fan to conserve energy and low 60 ppm NOx performance at maximum load.
At about 60% the size of competitive models, the HCMT-PAK is the perfect burner for new or retrofit applications in ovens, furnaces, dryers, and other environments where high performance heating is required. It is delivered pre-programmed from the factory for plug-and-play installation and requires virtually no calibration.
Two versions are available with capacities of 800,000 BTU/hr to 1.8 MM BTU/hr and heating ranges from 500º to 1,900º F, with a minimum input of 30K BTU. Its 30:1 turndown ratio accommodates a wide range of heating demands.
To learn more about the HMCT-PAK burner and other combustion products for the thermal processing industry, visit Selas.com.
About Selas
Selas Heat Technology Company LLC has been dedicated to providing quality heat technology solutions since 1896. Selas has served the advanced thermal processing needs of tens of thousands of customers, providing mixers, blowers, balanced zero-ratio regulators, valves, air heaters, flame safeguard devices for single and multi-burner applications, nozzle-mix family burners (dual and single fuel package, velocity, self-recuperative, immersion tube), pre-mix family burners (including radiant flame shape Duradiant® furnace burners for 1450°C, ceramic and surface emitting infra-red, ribbon, and tunnel), ultra-low NOx flat flame burners, oxy-fuel burners, combustion gas mixers, gas blender valves, flame arrestors and blowouts, BTU monitors and controls, flow meters, and much more. Selas burners can fire a wide range of fuels from gases (natural gas, propane, butane, methane, hydrogen) to oil to biofuels to pulverized coal/wood in ranges from <10,000 Btu/Hr to 20,000,000 Btu/Hr. Mixing and blending products include PosiMix® combustion controllers and air-fuel mixing systems as small as the midget mixer, fuel stabilization systems (Trim-Blend®) and BTU Monitoring device Qual-O-Rimeter®. Selas delivers heat technology solutions to the glass, fiberglass, steel, ferrous and non-ferrous metals, wire, chemical, petrochemical, automotive, paper, plastics, ceramics, heat treating , textiles, food processing, baking, powder coating, line painting, curing and coating (metals, paper and a variety of substrate) laminations and boiler industries with the highest quality products, customer service and aftermarket support.